Cadas provides free and confidential services delivered by trained volunteers and paid staff across Cumbria to community members using substances problematically and their families, partners or carers.
Our four centres are located in the North & South of the county in Carlisle, Whitehaven, Barrow & Kendal.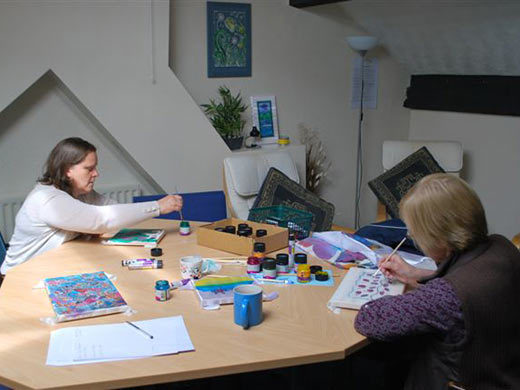 Cadas Services
Information & Advice
The staff members from all four of our centres can offer advice and information over the telephone, by email and in person about Cadas services, basic drug and alcohol awareness including harm reduction information and signposting to other organisations.
One to One Support
Free and confidential structured one to one support sessions to enable community members aged 18 years and over to address their substance use, to make positive changes whilst improving health and well-being.
Acu-stimulation (Black Box) therapy
Acu-stimulation or black box therapy promotes relaxation, sleep and supports management of cravings and withdrawal. A gentle electrical pulse is administered to key acupuncture points on the ears and hands during one to one sessions.
Parent, Carer & Family Support Service
Carers and families can often feel ignored because of the attention given to the person with the problem. Families attempt to keep relationships going and continue to offer support in the most difficult and sometimes distressing circumstances. Cadas is here to help, providing a free service to help families cope. Support is offered via confidential one to one sessions, support groups, workshops , acu-stimulation and therapies such as mindfulness and tapping (EFT).
Building Better Opportunities – Getting Cumbria to Work
This project aims to support and work with individuals who are facing multiple and complex barriers to employment. It will help them to move towards and into employment by supporting them to play a greater, more productive role in their communities, demonstrate increased skills and confidence and be much more likely to consider employment or volunteering as a viable prospect.
The project will deliver three particular strands of support focused around:
Mental Health: providing support to individuals who experience mental health issues – including a joined up response with the range of agencies who already work with such participants.
Financial Inclusion: supporting people to overcome financial and digital barriers to employment by providing financial and money management advice to enable participants to manage their money better and make it go further.
Working with the Social Enterprise Sector and wider Third Sector: providing work experience and employment opportunities for participants within social enterprises.
Community Training & Workshops
Cadas has a strong reputation for delivering excellent training to community members from our centres and other community bases. Our training and workshops aim to raise awareness and to promote a better understanding of drug and alcohol use, reduce harm and to support community members to know where to seek support. For information about our latest training courses please visit the Events and Training page. To enquire about bespoke training we can offer please call us to discuss your requirements on 0300 111 4002.
How to Access Support
Referrals into our services are simple and are welcomed by telephone, in person or via another e.g. family or GP with consent and by email using the 'contact us' button. The referral process is straight forward and takes approximately ten to fifteen minutes to complete.
A staff member will ask a series of questions about you and your substance use. This information is logged on our referral form and is stored safely.
What Happens Next?
1. Care Plan Assessment

Once a referral has been made and received, an appointment will be arranged for you to attend a Care Plan Assessment, which takes up to an hour.
The Care Plan Assessment is an opportunity for you to discuss what you are experiencing in more depth. You will be asked a series of questions to help us better understand your situation.
You will be given information about the services available at Cadas and confidentiality.

2. Waiting List

Once your Care Plan Assessment has been completed you will be placed onto our waiting (if there is no waiting list your case will be assigned to a case worker who will contact you and offer you an appointment directly).
Staff members will contact you fortnightly by phone or letter to check in with you, see how you are and check if you wish to remain on the waiting list.

3. Assigned A Case Worker

When a case worker becomes available, they will contact you directly either by phone or letter to offer you an appointment.
*Please note that the length of waiting lists may vary between Cadas centres due to staff capacity and demand for our service.
Help Yourself In The Meantime
Cadas Top Ten Tips
Nicotine

Smoking can often feel like a good way to relieve stress and boredom. Consider reducing the number of cigarettes you smoke as this will actually help you feel less stressed. Nicotine is a stimulant drug and disrupts your sleep. Smoke your last cigarette well before bedtime to ensure a more peaceful night's sleep.

Caffeine

Reduce the number of caffeinated drinks you have in a day. Coffee, tea and some fizzy drinks contain caffeine, a stimulant drug, which can sap your energy, disrupt your sleep and cause your body to feel stressed and make you thirsty. Drink your last caffeinated drink well before your bedtime.

Water & Non-Caffeinated Drinks

Drink more water and non-caffeinated drinks like fruit juices and cordials. Staying hydrated will help reduce headaches, give you more energy and help your digestive system.

Healthy Food

Eat food regularly. Avoid eating one big meal a day, eat smaller portions more often. Where you can eat home cooked fresh food e.g. soup to get plenty of vitamins and nourishment. Have a take away as a treat rather than as your main source of food. This will help you to feel more energised, stabilise your moods and support your body to regulate itself better.

Routine

Look at your life- do you have a set routine? Do you go to bed at the same time every night? Do you get up at the same time every day? Consider starting a new routine to help you structure your day.

Exercise

Take gentle exercise each day, go for a walk to the park, beach, go alone or invite friends. Join a walking group, a running club or a community garden, whatever interests you! Exercise and being outside is really beneficial physically, mentally and emotionally and will help you to sleep and feel less stressed.

Do something you enjoy

What do you enjoy doing? Do you like to draw, sing, write or paint? Doing something enjoyable and positive will help you to focus on something other than your substance use. Check out local Community Centres and Cadas Centres to see what they have to offer.

Write in a Journal

Write down your thoughts and feelings in a journal or a jotter, this can help you to organise your thoughts and see what's going on in your head. Often writing down how you feel can help.

Set Goals

Take time to think about what you want in life, what your short and long term goals are. Think about how you can take small steps to begin to achieve your goals, what support you may need and from whom.

Talk to Someone

If you are having a tough day, find someone you trust that you can talk to. Sometimes talking through how you feel can be really helpful. AA, Alcohol Concern, Adfam, Samaritans, MIND, Health watch Cumbria.